Insulated Bi-fold Doors
Designed for security, high wind pressure and minimal service and maintenance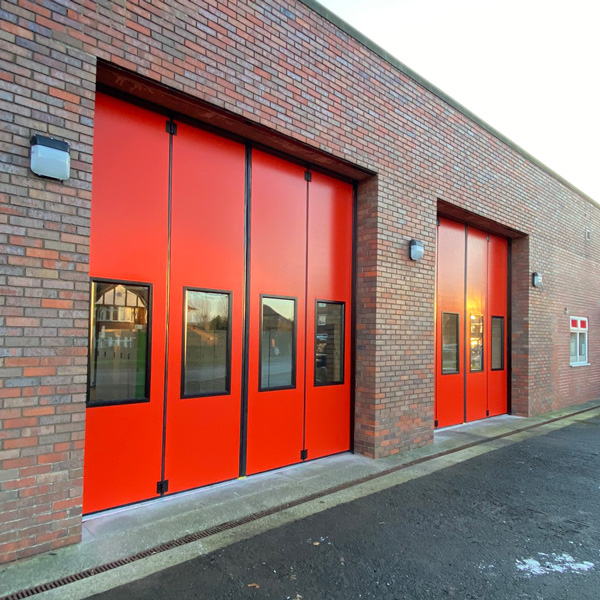 Swift
Side-hung Bi-folding Door System
The Swift door is a side-hung, fast opening, insulated flat panel bi-folding door, which is arguably the simplest and most reliable industrial door system available today.
In its basic four (2+2) leaf manual form, a flick of the wrist will disengage top and bottom shoot bolts and swing open each door half instantly providing the user full opening clearance.  The Swift door is available in seven different leaf configurations, with any combination of one, two or three leaves hinged to one or both jambs.
Electric operation is available on Swift two leaf doors (2+0, or 2+2 arrangements) using world-renowned FAAC hydraulic drive units, which safely propel the door from closed to fully open in only 5 seconds
Key Features
Leaves fold clear of the opening and require only 200 mm side room.
Minimal headroom of only 150 mm for low clearance openings.
Horizontal folding action provide full height access as soon as the door moves.
No bottom track – leaving a clear threshold.
Full height pass doors or integral wicket doors can be incorporated within the main door.
Invisible protection zone around the opening prevents doors impacting on people or vehicles during both closing and opening.
Osprey
Top-hung Sliding/Folding Door System
An extremely versatile door, the Osprey top-hung sliding/folding door combines robust design with modern appearance to provide the simplest door system for wider span openings.
Factory tested for over 250,000 continuous operations, and constantly improved since, this multi-leaf system will provide years of reliable service.
In the closed position, Osprey doors form a flat wall of panels, each approximately 1 metre wide. When open, door leaves fold into tight bunches, providing full height clearance for vehicular access as they open.
For larger spans, leaves can be arranged in several sections, which can be individually opened to provide smaller apertures, or the entire door folded aside to create one vast opening.
Electric operation is provided by inverter drive units and multi-programmable control boards with soft start and stop, integrated push button controls, and a host of safety features as standard.
Key Features
Unlimited width for manually operated doors.
Maximum width 20 metres and up to 100m2 area for electrically operated doors.
Maximum height of 6 metres as standard, 7 metres by design.
Easy-to-clean galvanised bottom guide track with built-in threshold.
Sealed for life self-lubricating hinges and guides.
Weather-tight seals tested to Class 2 Air Permeability and Class 3 Water Leakage.
Tested to Class 4 wind loading in accordance with BS EN 13241.
Laboratory tested to reduce noise by 25dB.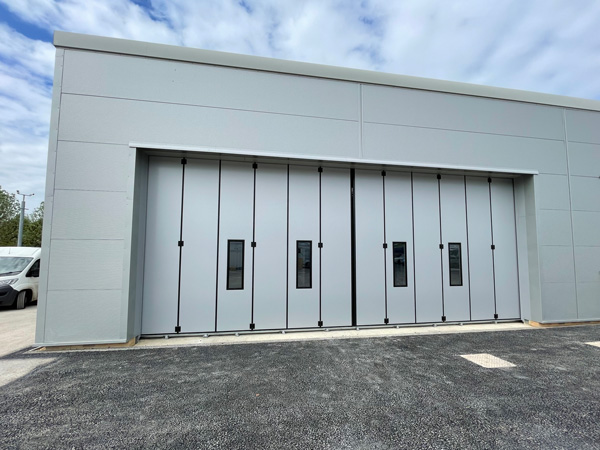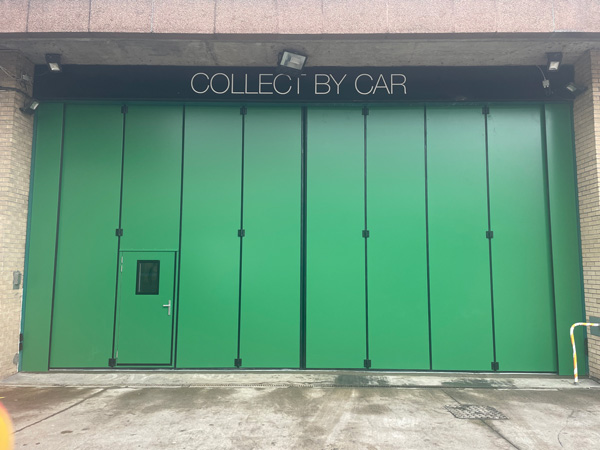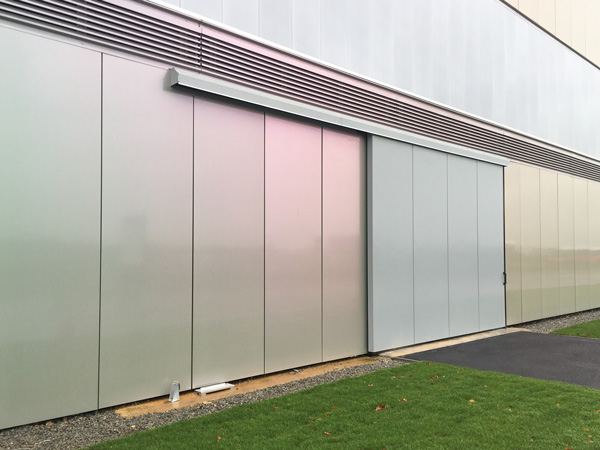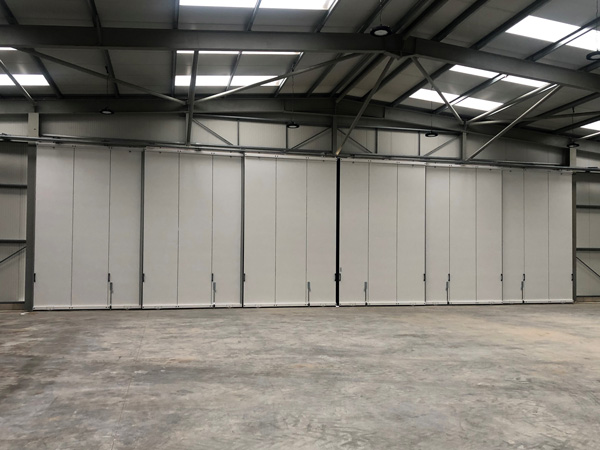 Kingfisher
Straight-sliding Door System
The Kingfisher is a traditional, straight-sliding door system, which can be configured to suit any width of opening and up to 7 metres in height. Whether for a private aircraft hangar or a university workshop, the Kingfisher door will fit.
Available as either a bottom-rolling or top-hung system, sliding on one or multiple tracks, manual or electrically operated, the Kingfisher is a highly versatile performer. Sliding leaves are factory pre-assembled with sliding door gear and all seals to rigid top and bottom tubular rails, which support in-house designed sliding door gear.
Door leaves are easy to move by hand in either top-hung or bottom-rolling form, or if greater control is required, electric operation is available as standard to all Kingfisher doors. Overall, the Kingfisher is an economical and successful design that has proved its superior qualities in widely varying applications around the globe.
Key Features
Unlimited opening width for manually operated "push-along" doors.
Top-hung or bottom-rolling (to suit non-load bearing lintels).
Maximum 180 m2 for bottom-rolling power-operated doors.
Innovative flat panel, single piece construction.
Roller shutter tailgates can be incorporated for high tail aircraft.
Low rolling resistance for ease of use.
Inset wicket doors with or without threshold step.
Solid, partially glazed or full glazing available.
Coordinated black-line hardware.
Factory assembled for trouble-free installation